ABBEY FROSTBITE LEAGUE
This is a fun and social competition for those who want to shoot during the winter months and drink tea with fellow archers! A Frostbite round is 3 dozen arrows shot at 30m on an 80cm face.
This year the league will run from October 2022 to March 2023.
There will be 1st, 2nd and 3rd place medals for the individual bow style leagues and an "Overall League" winner's trophy. Awards will be presented at the Club Championship in September 2023.
This year we hope to also be participating in the British Archery Postal Frostbite League. More information will be provided in October.
Personal information supplied by you will only be used for the purposes of this competition as outlined in the section on GDPR (General Data Protection Regulations).
League Rules
(Please read carefully – there are a couple of changes this year!)
• An Archer can shoot as many Frostbite rounds as they wish each month.
• An individual Archer may shoot and submit scores for different bow types.
• An Archer's best score for the month needs to be witnessed and submitted by the first Sunday of the following month. A score sheet will also be needed if you are claiming any of the additional points.
• The monthly league table will be posted online each month
• 6 Sighters are allowed
• 6 Arrows must be shot within 4 minutes.
• The round will be shot under the – Archery GB's Rules of Shooting
• Points will be awarded for each month per bow style as follows: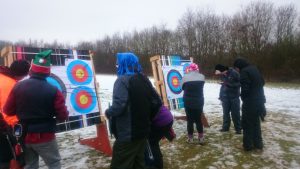 • 10 – for a win (highest score in the month)
• 9 – 2nd highest score in the month
• 8 – 3rd highest score in the month
• 7 – 4th highest score in the month
• 6 – 5th highest score in the month…and so on…
• 1 point awarded for attending and entering a score for each bow style in the month. This will be doubled (2 points) if you attended and entered a score on Bacon Sandwich Sunday (BSS). BSS is between 10am – 1pm on the second Sunday in each month. An archer must have shot at least one end before 1pm to qualify for this extra point (score does not have to be the highest monthly score).
• For a pure score tie between Archers for the month, the positions will be worked out on how many X's. If still a tie then how many Gold's and so on…
• An Archer's league position in the "Overall League "will be based on the total number of points achieved during the season. For a tie between Archers, league positions will be worked out on the "adjusted" pure score achieved during the season using Somerset Archery Associations Frostbite HC table. If still a tie then how many X's and so on…
GDPR:   When you enter an Abbey managed competition the following information may be collected and shared with tournament organizers, scoring systems and other competitors. For example target lists and results may be published: First Name, Surname, Gender, Bow Style, Date of Birth / Age category, Email Address, Phone number, Club (and ID), County (and ID), Region (and ID), Round (unless defined by age), Disabled (Y/N), Disability info."