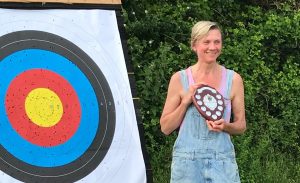 Sun tan lotion was the order of the day at the 2018 Stuart Attwood Charity Shield. The sun shone brightly on the archers competing to take home the trophy. The competition was a handicap based tournament with all competing archers requiring a handicap from previous shoots to compete.
Everyone fought hard and the finishing handicap scores were all quite close, but the runaway winner was Kate who thrashed her personal best to attain a handicap score of 1507 much to her own surprise. Joe won the junior trophy with an equally respectable score of 1411.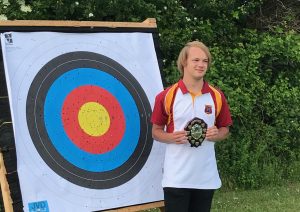 The shoot is held every year and everyone who enters pays a fee which is given to a choice charity. This year the money raised will be given to Cancer Research UK towards the excellent work they do. A big thank you to all the club members who took part and helped raise over a £100 – and thanks to Matt the chef who ensured that all the archers were fed at the end of the shoot.
The full results can be found on the event page here.